Fellowship Groups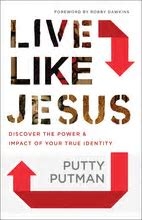 GROUPS MEET January 7-March 24, 2018
Groups consist of Fellowship, Teaching, Worship, Prayer and last 45-90 minutes.
In Live Like Jesus you'll gain a renewed perspective on a Gospel that is bigger and more sensational than you ever realized. Everything you need to live a life connected to and empowered by a God who is and does more than you ever imagined is awaiting you.
All groups have the same focus in this Awakening Study. Get ready to have your thinking and your life transformed!
You can get the book, "Live Like Jesus", on Amazonf
---
SIGN UP for Fellowship Groups (1/7-3/24.):
Sunday Co-ed* @ 9am | Amy Kondis                                                                Wednesday Co-Ed*  @ 6:30 pm Mike & Kelly | Room 102
Wednesday Co-ed @ 6:30 pm Kurt Smith | meeting at 2516 Nova Circle        Thursday Co-ed* @ 2pm  | Amy Kondis           SaturdayWomen's Group* @ 11:30 am  | Kim Hill (* NBFC / Room 102)