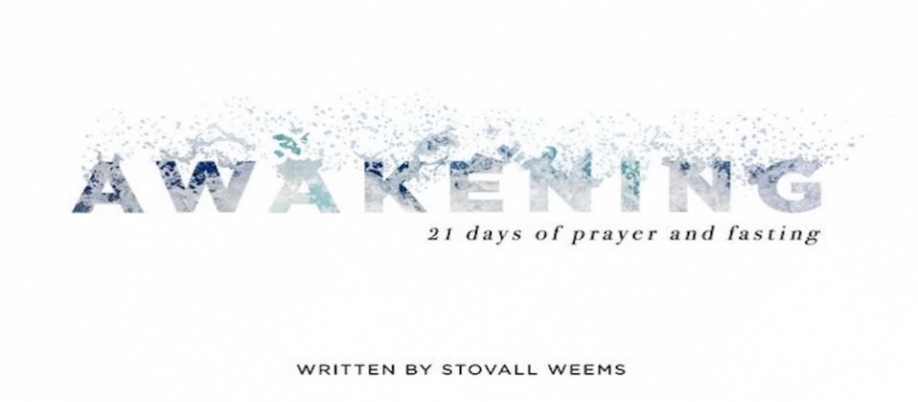 21 Days of Prayer and Fasting
How close do you feel to God? Have you ever felt there is more? There is! God meant for our relationship with Him to be vibrant, passionate and thriving. Join us in the experience of fasting, prayer, and listening to God through His Word during 21 days of Awakening January 7-27, 2018.
Since 2012 we've joined thousands of churches developing & strengthening our relationship with God at the first of the year. What we've discovered is that when you make room for God–He'll fill that space. The more room you make, the more space He'll fill.
This 21-Day intentional pursuit of God is one way of making room. Why not join us? On this page, you'll find helps to plan how you'll encounter God. You'll find a Devotional Guide, Fasting tips, Daniel fast recipes and more. Set this time aside.
You'll be amazed at what God shows you and how He'll work through you.
Pastor Randy
GETTING STARTED
A Quick Look at Awakening 2018 and The Daniel Fast
There are two references to fasting in the biblical book of Daniel from which the "Daniel Fast" is drawn. Daniel, chapter 1, describes how Daniel and his three friends ate only vegetables and drank only water. (Daniel 1)At the end of a 10-day trial period, Daniel and his friends appeared healthier than their peers who ate the rich foods from the royal table. In Daniel chapter 10, Daniel fasts again, abstaining from "pleasant food," meat, and wine [i.e. meats and sweets (Daniel 10)].You, too, can gain a healthier body and clearer mind by following this diet "fast" in moderation.
The Daniel Fast promotes healthy eating. But if you have specific health concerns, consult your health-care provider before committing to this 21-day (or 3-week) diet.
Plan to participate. Begin by deciding how God would have you participate.
Make the commitment to come to church each Sunday and join an Awakening Fellowship Group. You can sign up for a group on the website or at church, on your Connect Card.
Schedule time alone with God (use the online Devotional Guide). Decide when you're going to meet with God each day and at what time. Determine the place. (You have to be intentional if you're going to go deeper with God.)
Avoid Distractions. This is a sacred time between you and God so limit or eliminate secular TV time, gaming, recreational internet, etc. Use that time to focus on God in worship, Bible study/meditation, prayer, preaching or Bible teaching.
Start the fast by focusing on your faith. Worship God through sacrifice and love Him more than His gifts.
Pray. Fill your day with conversational, unselfish prayer.
Engage. Look for opportunities to minister through the power of the Holy Spirit.
An Overview of  what "Daniel Fast" foods include:
All fruits and vegetables
All legumes
Whole grains
Nuts and seeds
Tofu
Herbs and spices.
Suggestions as you prepare for the AWAKENING 2018
[Special thanks to Stovall Weems & Celebration Church]
How to Begin
Start with a clear goal. Be specific. Why are you fasting? Do you need direction, healing, restoration of marriage or family issues? Are you facing financial difficulties? Ask the Holy Spirit for guidance. Pray daily and read the Bible.
Preparing Spiritually
Confess your sins to God. Ask the Holy Spirit to reveal areas of weakness. Forgive all who have offended you and ask forgiveness from those you may have offended (Mark 11:25; Luke 11:4; 17:3-4). Surrender your life fully to Jesus Christ and reject the worldly desires that try to hinder you (Romans 12:1-2).
Deciding What to Fast
The type of fasting you choose is up to you. You could go on a full fast in which you only drink liquids, or you may desire to fast like Daniel, who abstained from sweets and meats, and the only liquid he drank was water. Remember to replace that time with prayer and Bible study.
Deciding How Long
You may fast as long as you like. The Daniel Fast is 21 days. Ask God what He would have you do. This may be new to your thinking. Fasting goes against our consumer, me-centered mindset.  Remember, you have to give up to grow up. If you want God to have more of you then you must make more room for Him in your life. Fasting is making room for God and giving Him your attention.
What to Expect
When you fast your body detoxifies, eliminating toxins from your system. This can cause mild discomfort such as headaches and irritability during withdrawal from caffeine and sugars. And naturally, you will have hunger pains. Limit your activity and exercise moderately. Take time to rest.
Fasting brings about miraculous results. You are following Jesus' example when you fast. Spend time in personal and family worship. Pray as often as you can throughout the day. Get away from the normal distractions as much as possible and keep your heart and mind set on seeking God's face. Draw near to God and He will draw near to you.
How to End
Don't overeat when the time comes to end your fast. Begin eating solid food gradually; eat small portions or snacks.
Helpful Links:
Devotional Guide. This is the guide we'll be following during Awakening.
https://www.bible.com/reading-plans/3405-awakening-21-days-of-prayer-and-fasting-devotional/day/1
21-Day Daniel Fast: www.daniel-fast.com
More About Fasting: https://www.cru.org/us/en/train-and-grow/spiritual-growth/fasting/personal-guide-to-fasting.html